The AIC Volleyball competition remains one of the strongest schoolboy Volleyball competitions in the country – both in quality of performance and in quantity of participation. Each week of the 2023 AIC season, over 130 teams competed in premiership competitions. A number of schools offered further participation through internal competitions.
In 2023, the AIC announced its inaugural intake of past students into the AIC Sporting Hall of Fame. Both Andrew Grant (Marist College Ashgrove) and Grant Sorenson (St Edmund's College) were inducted for into the "Hall of Fame" for their achievements in the sport of Volleyball. These achievements included Australian Olympic team representation for both.
First VI Premiership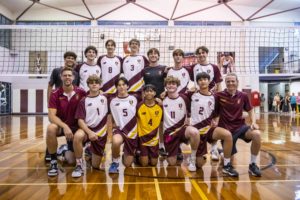 This year's First VI Volleyball premiership was won by a standout St Peters team who went through the season undefeated. St Peters only lost 3 sets in total for the entire season. Iona were First VI runners-up with Marist College Ashgrove in 3rd place.
Year Level Premierships 
In a clear display of the depth of talent that exists in AIC Volleyball across all schools – seven of the eight schools won individual year level premierships. These included:
St Peters: 1st VI, 2nd VI*, 11B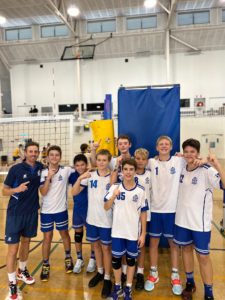 Marist College Ashgrove: 2nd VI*, 3rd VI, 4th VI, 10C, 9C
Villanova: 2nd VI*, 11A
Padua: 11C, 10A, 10D, 8B
St Laurence's: 10B, 9A
Iona: 9B, 9D, 8A*, 8C, 8D, 7A, 7B, 7C, 7D
St Edmund's: 8A*
(*) denotes a shared premiership
Aggregate Competition
The consistency of Iona Volleyball teams led to Iona being crowned AIC Volleyball Aggregate Champions. 10 out of the 12 Iona 'Aggregate' teams finished the season in the top 3 schools in their respective divisions, with four of these teams winning premierships. In a very close competition for 2nd place, St Laurence's (2nd), Villanova (3rd) and Padua (4th) were only separated by 1 point on the final aggregate points table.
Queensland Schools Cup Competitions
Throughout the year, AIC schools were represented at the various Volleyball Queensland Schools Cup Competitions. With a strong presence at each of these competitions throughout the year, AIC schools showed their strong commitment to developing the Volleyball talent outside of just the Term 1 Volleyball Season.