After a preseason that included two warm-up meets at Curlew Park and the new venue of Sherwood, Curlew Park (Shorncliffe) again hosted the AIC Cross Country Championships. The Curlew course is renowned for being a fast course and the athletes from the nine competing schools reenforced this belief with some very quick times for the respective 2km, 3km, 4km and 6km events. In 2023, Ambrose Treacy College again was invited to compete with the 8 member Colleges which created further depth in the competition.
The AIC Cross Country Championships is a special event on the calendar with it being an opportunity for the youngest students in our colleges to compete in front of their older peers. The support and encouragement within each community is incredible and the excitement that schools create with their tunnelling of competitors towards the start line is inspiring.
Both the Primary and Secondary Competitions were incredibly close with Marist College Ashgrove and Villanova vying for the title in the primary and Iona College and Marist College Ashgrove competing strongly for the secondary title. Congratulations to Marist College Ashgrove (Primary) and Iona College (Secondary) for winning the respective shields for Cross Country Champion School.
Outside of the AIC Competitions, athletes from the AIC Colleges performed exceptionally at both State and National level. These exceptional performances were highlighted by Jack Coomber (St Laurence's) being selected to compete for Australia in the World Cross Country Championships Under 20 race.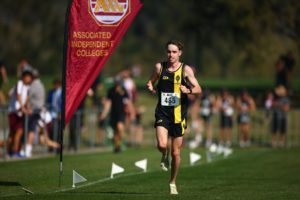 Individual Event Winners
Each individual race on the day was hotly contested with athletes representing 6 different schools claiming the title of AIC Cross Country Champion. Congratulations to Ethan Trieu (St Laurence's – Year 5), Ben Schinard (Ambrose Treacy- Year 6), Conor Mathewson (St Edmund's – 12 Years), Xavier Morrell (St Peters- 13 Years), Harry Prole (Marist College Ashgrove – 14 Years), Zahn Spies (Padua- 15 Years), Asher Parkin (Marist College Ashgrove- 16 Years) and Jack Coomber (St Laurence's- Open).
Team Year/Age Group Results 
Congratulations to the following schools who won team year level or age group trophies.
Iona College- 13 Years, 14 Years, 16 Years and Open
Marist College- Year 5 and 12 Years
Villanova College- Year 6
St Laurence's College- 15 Years
Overall Championship Results
| | |
| --- | --- |
| Primary Championship Results | Secondary Championship Results |
| 1st- Marist College Ashgrove 18 points | 1st- Iona College 54 points |
| 2nd- Villanova College 15 points | 2nd- Marist College Ashgrove 49 points |
| 3rd- St Laurence's College 13 points | 3rd- St Laurence's College 37 points |
| eq 4th- Padua College 11 points | 4th- St Peters 33 points |
| eq. 4th- St Patrick's College 11 points | eq 5th- Padua College 26 points |
| 6th- Iona College 10 points | eq 5th- Villanova College 26 points |
| 7th- Ambrose Treacy College 8 points | 7th- St Patrick's College 25 points |
| 8th- St Peters 4 points | 8th- St Edmund's College 15 points |
| | 9th- Ambrose Treacy College 11 points |
Acknowledgements
The Association would like to thank Queensland Athletics for supplying the referee for the AIC Championships and to the St Patrick's College facilities staff for ensuring the course at Curlew Park was in immaculate condition.